Who We Are
---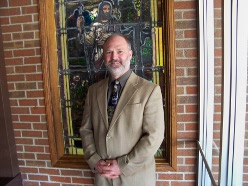 Senior Pastor: Arnie Kaufman
His Ministry.
Pastor Arnie has been our Senior Pastor here at the First Church of God in Wooster, Ohio since 2006. Prior to that he served as Pastor of the McMechen Church of God in West Virginia for almost 12 years. Before he was in full-time ministry he served in various part-time ministry positions such as: Youth Director at Westbrook UMC in Canton, OH; Youth Pastor at Faith PCUSA in McHenry, IL; and Men's Residence Hall Director, Malone College in Canton, OH.
Their Short Story.
During Arnie's college years at Malone, he met Lynn Stephen. In 1989, they were married. They lived in Canton, Ohio for their first years of marriage before relocating to outside of Chicago, IL for Seminary at Trinity Evangelical Divinity School in Deerfield, IL. After Arnie had graduated, they were called to the Church of God in McMechen, West Virginia to serve as their pastor. It was here that they were blessed with the birth of their two sons, Aaron and Luke. They were then called to ministry here at the First Church of God.
What brought him around to becoming a Pastor? There are two stories.
Arnie's story: When I was just a "youngster" in my home church, the Lillyville Church of God in Ellwood City, PA, a visiting evangelist privately shared with my parents that their young Arnie would grow up (that right there was reason enough for them to shout "Hallelujah!"…) and serve our Lord as a pastor. They kept this a secret; waiting for God's timing to tell me. Years later, when I shared with my parents that I felt the Lord calling me to be a pastor, they knew then it was the time to tell of the evangelist's words spoken so long ago.
Lynn's story: It was almost the end of his third year of graduate school. Graduation was looming close by, a mere couple of months away. We were talking in our apartment one night about "after graduation". 'Where will we go?' We both had been praying to God that we were willing to go anywhere. Any state. Just as long as it was where HE wanted us to be. From the very beginning of Seminary, we had the vision that Arnie was suppose to graduate and then serve as a College Chaplain. Never had we spoken of the possibility of him being a pastor, until that evening.
We had been in ministry together since our engagement and we knew that this was to continue. Even so, we each shared with each other the fact that we had been struggling with Arnie becoming a Chaplain. In fact, we both admitted how much we would miss the ministry to youth and families as a whole. We could no longer see the puzzle pieces fitting together for a future of ministry to just college aged young adults. This was the first time we saw our future in pastoring a church.
Since that time, God has continued to bless our decision to enter into the pastoral ministry.
---
What We Have To Offer You
Our Visitor's Pamphlet
---
What We Believe
Used with permission from the Churches Of God, General Conference.
Our Core Values
About God
About Jesus Christ
About the Holy Spirit
About the Bible
About Humanity
About Free Moral Agency
About Regeneration
About Justification
About Sanctification
About the Church
About the Ordinances
About Baptism
About Feetwashing
About the Lord's Supper
About the Presentation of Children for the Lord's Blessing
About the Ministry of Reconciliation and Wholeness
About the Ministry of Christians in the World
About Last Things
About Abortion, Sexual Immorality, etc
About Pornography, AIDS, etc
What We Believe in its entirety
---
Home :: About Us :: Ministries/Schedule :: Contact Us :: Our Pastor's Thoughts
Announcements :: Newsletter :: Useful Links :: Photos :: Media :: Calendar
© 2010 First Church of God
1953 Akron Road, Wooster, Ohio 44691